From jamie.goodwin@hullcc.gov.uk | Wednesday 7 October 2020
Partnership to help to support clean growth, future-proof vital industries and protect and create new jobs.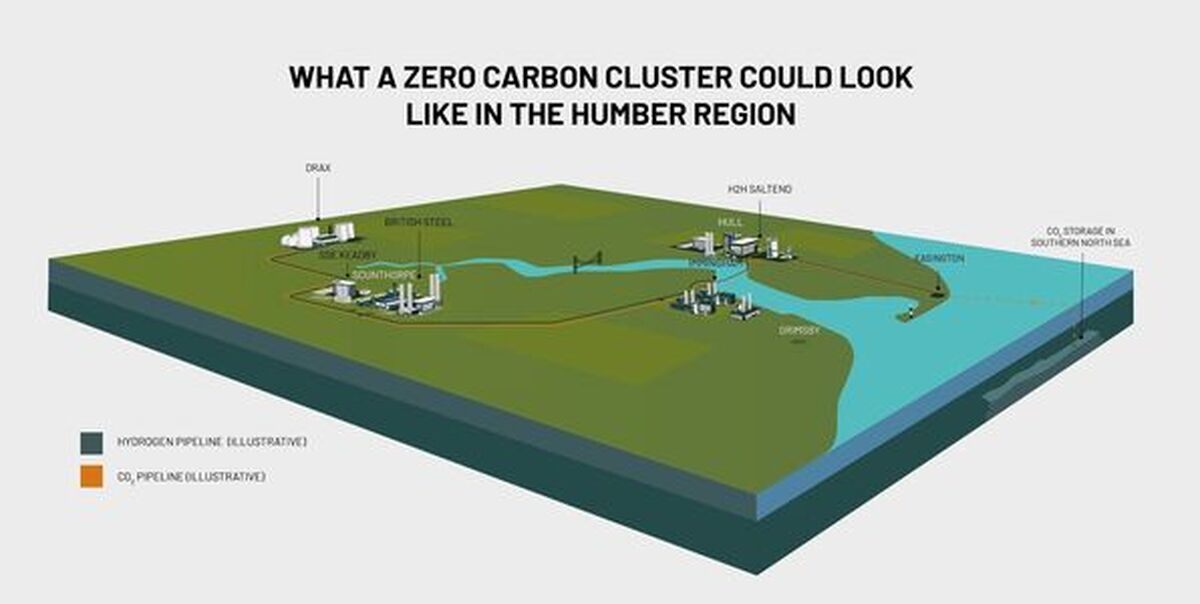 Twelve leading Humber organisations have submitted a £75m joint bid to accelerate decarbonisation in the UK's most carbon intensive industrial region.
It is hoped the Zero Carbon Humber (ZCH) Partnership will help to support clean growth, future-proof vital industries and protect and create new jobs.

It brings together international energy companies, heavy industry, leading infrastructure and logistics operators, global engineering firms and academic institutions in a plan to create the world's first net zero industrial cluster by 2040 through low carbon hydrogen, carbon capture and negative emissions, known as carbon removal technology.

The 12 organisations that form the partnership are Associated British Ports, British Steel, Centrica Storage, Drax Group, Equinor, Mitsubishi Power, National Grid Ventures, PX Group, SSE Thermal, Saltend Cogeneration Company Limited, Uniper, and the University of Sheffield's Advanced Manufacturing Research Centre (AMRC).

Zero Carbon Humber could reduce the UK's annual emissions by 15 per cent and save industry £27.5 billion in carbon taxes by 2040.

The scheme is enabled by shared infrastructure that includes a pipeline network to carry hydrogen to industrial customers and carbon dioxide from power generation and industrial emitters to permanent storage in an offshore aquifer below the seabed in the UK's Southern North Sea.

Stephen Parnaby, Chair of the Humber LEP, said: "We're very pleased organisations across the Humber have put in bids for Phase 2 of the Industrial Decarbonisation Challenge today.

"These exciting and innovative proposals will support the Humber LEP's goal of becoming a net-zero region by 2040, through a range of decarbonisation measures for industry involving businesses and organisations around the estuary.

"Large scale industrial decarbonisation, which is essential to reducing the carbon footprint of the UK, will protect jobs and create new ones. It is only possible through close, collaborative working and support from the Government, as illustrated in these bids."

The ZCH Partnership has applied for funding from Phase 2 of the Industrial Decarbonisation Challenge, which forms part the Industrial Strategy Challenge Fund, with significant investment also coming from the companies within the ZCH Partnership. The bid builds on the Humber's successful application for Phase One funding, which was announced in April.

The bid's anchor project is the Equinor-led Hydrogen to Humber (H2H) Saltend project, which will establish the world's largest hydrogen production plant with carbon capture at px Group's Saltend Chemicals Park. H2H Saltend will convert natural gas to hydrogen and capture the carbon dioxide (CO2).

In the first phase, this could reduce emissions by circa 900,000 tonnes per year as industrial customers switch fuel to low-carbon hydrogen and Triton Power's gas power plant blends hydrogen into the fuel supply via its upgraded Mitsubishi turbines. H2H Saltend is expected to grow over time, contributing to further emissions reductions from the Chemicals Park and across the Humber.

Find more information here.