BY Lucy Bannister | Thursday 3 March 2022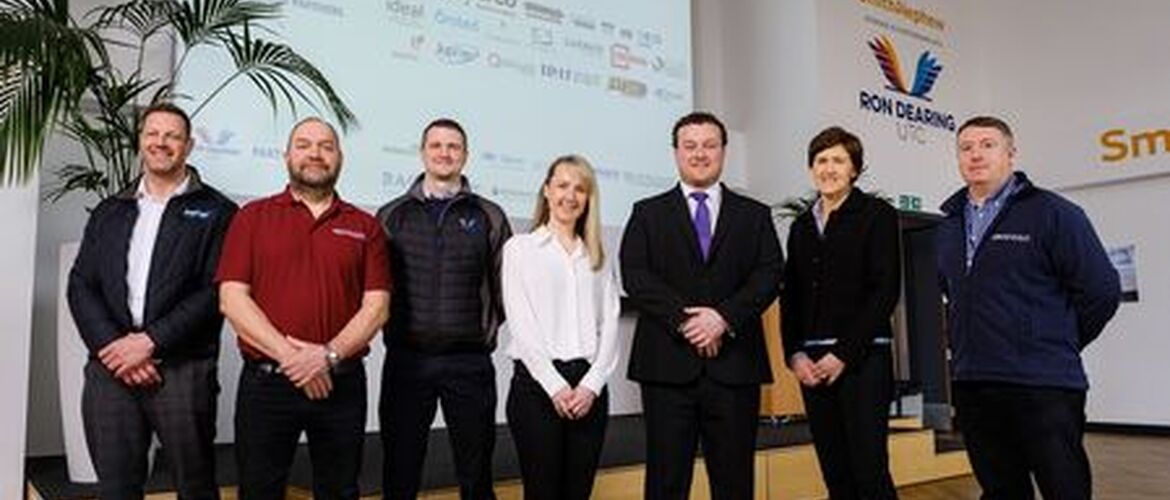 Ron Dearing UTC has joined forces with 6 more businesses to equip even more students with highly-sough after industry skills
Leading businesses aiming to shape their future workforces have partnered with Hull's Ron Dearing University Technical College (UTC) to equip students with highly sought-after industry skills.
The Ofsted Outstanding-rated school has a host of Founding Partners, Major Partners and Partners comprising of many of the region's foremost companies.
Now, six more businesses have committed to opening up further exciting opportunities for students and helping them gain key industry-standard knowledge and skills as they prepare for their future careers.
Global energy company Equinor, asset integrity engineering company IRISNDT, managed IT service provider and cyber security specialists Jupiter IT Solutions and specialist rural internet provider Quickline have become Major Partners. In addition, BACB Renewables and Pneumatic Engineering Ltd have become the employer-led school's latest Partners.
Norwegian-based Equinor is the largest individual supplier of oil and gas to the UK and is investing heavily in low carbon and renewables solutions, particularly hydrogen and carbon capture, in the Humber.
It is responsible for Dogger Bank, which will be the world's largest offshore windfarm, situated in the North Sea off the East Yorkshire coast and capable of powering 5% of the UK's electricity demand. Hydrogen to Humber (H2H) Saltend, to the east of Hull, is its flagship project which aims to decarbonise Saltend Chemicals Park and kick-start a zero carbon Humber by producing hydrogen from natural gas in combination with carbon capture and storage.
Tanguy Cosmao, Equinor's Project Director at H2H Saltend, said: "This could be the first project of its kind in the UK and, if it gets the go-ahead, we'll need people to work on it, and we want young people to be familiar with the technologies involved.
"We're keen to explore the potential to take on apprentices from Ron Dearing UTC and offer work placements as our workforce of the future in the energy sector. We're really impressed by how Employer Partners can help to shape the curriculum and have active involvement and we're proud to be a Major Partner."
IRISNDT is an international blend of asset integrity engineering and non-destructive testing (NDT) companies providing a range of engineering, inspection, testing, heat treatment and software services to the renewable, petro/chemical, oil/gas, utility and transportation industries across the globe.
The business employs 1,500 employees in Canada, Australia, the USA and the UK, including offices at Saltend Chemicals Park in Hull and in Immingham.
IRISNDT, which took on one apprentice from Ron Dearing UTC last year, plans to take on a further two this year. It will also provide equipment, live demonstrations and technicians to guide students on industry knowledge and skills, and offer work placements.
Director Lee Richardson said: "We need to invest in youngsters coming through and give them an insight on how our business and the inspection industry works. If you can give someone a head start coming out of school, they've already got the fundamentals in place. We're really looking forward to seeing how the partnership develops."
Hull-based Jupiter IT Solutions provides managed IT support services and complete IT infrastructure expertise to businesses across Hull and the Humber.
Infrastructure Director Dan Gladstone said the business is helping to enhance IT modules studied by the UTC students and further equip them with the latest skills to give them the edge in the industry.
He said: "We'd like to take on trainees from the UTC and we're looking at what skills we'd like them to have. If we pass on these skills and knowledge to them, it will help the IT industry as a whole to provide a better service to their customers.
"Ron Dearing UTC's approach is unique and also about culture, hard work, mindset and attitude. It's fantastic to work with the school."
Hessle-based Quickline connects rural communities with superfast broadband in East Yorkshire, Lincolnshire and North Lincolnshire, as well as North and West Yorkshire. It has grown from just five staff to more than 100 since 2008, with further plans to continue considerable growth this year.
Claire Hickey, HR Director at Quickline, said: "Ron Dearing UTC looks at education differently and does everything it can to prepare students for work. Fortunately for us, this includes focusing on the engineering and technical skills we'll need as a business in the future.
"We're growing quickly and feel the partnership will benefit Quickline, the UTC and the local area. We're excited to be able to input into the curriculum and projects, supporting Ron Dearing to develop stars of the future."
BACB, based at Ergo in Hessle, are renewables consultants and holistic decarbonisation experts, providing services including solar, battery, heat pumps and biomethane and hydrogen fuels.
The company, which aims to reduce carbon and costs and drive the green economy, has an extensive background in the energy and renewables sector and Business Development Director Ciaran Sharpe said he plans to offer work placements and potentially apprenticeships to Ron Dearing UTC students.
He said: "Ron Dearing UTC is very forward thinking and we're honoured to be a Partner. The students have state-of-the-art technology at their fingertips and the school has links with so many fantastic businesses, which is the future of teaching.
"We're looking forward to bringing further realism to renewables through the curriculum."
Pneumatic Engineering Ltd, based in Brandesburton, East Yorkshire, has specialised in the sales, installation, maintenance and repairs of small, medium and large compressed air systems since 1992, supplying installations for the water industry and automotive and renewable energy sectors.
Managing Director Martyn Hill, who began his career as a mechanical and pneumatic apprentice, said he hopes to offer work experience to Ron Dearing UTC students as well as opening up potential apprenticeship or paid employment opportunities.
Martyn said: "I had a very good engineering education and I want to give young people similar opportunities to those I had. Ron Dearing UTC is preparing its students for what it will be like when they enter the workplace and they treat them like adults, so they know what to expect."
Ron Dearing UTC's Major Partners and Partners develop and deliver employer-led projects, provide work experience placements and lead the UTC's careers information, advice and guidance programme. Major Partners also play a key role in the development of the school's unique employer-engaged curriculum, while both Partners and Major Partners contribute financially to the school.
Glenn Jensen, Senior Assistant Principal and Head of Engineering at Ron Dearing UTC, said: "It's fantastic to welcome so many new Major Partners and Partners to share their skills and expertise with our students.
"These industries are constantly growing and evolving and the more we can provide our students with the latest technology and knowledge, the more chance they have of securing the careers and paths they aspire to pursue in the future."
Ron Dearing UTC has recently been named as the country's top performing school or college for the percentage of students moving on to apprenticeships following sixth form. It is ranked number one out of more than 4,500 schools and colleges in England in the Department for Education's latest destinations data for Year 13 leavers.