BY Lucy Bannister | Thursday 1 December 2022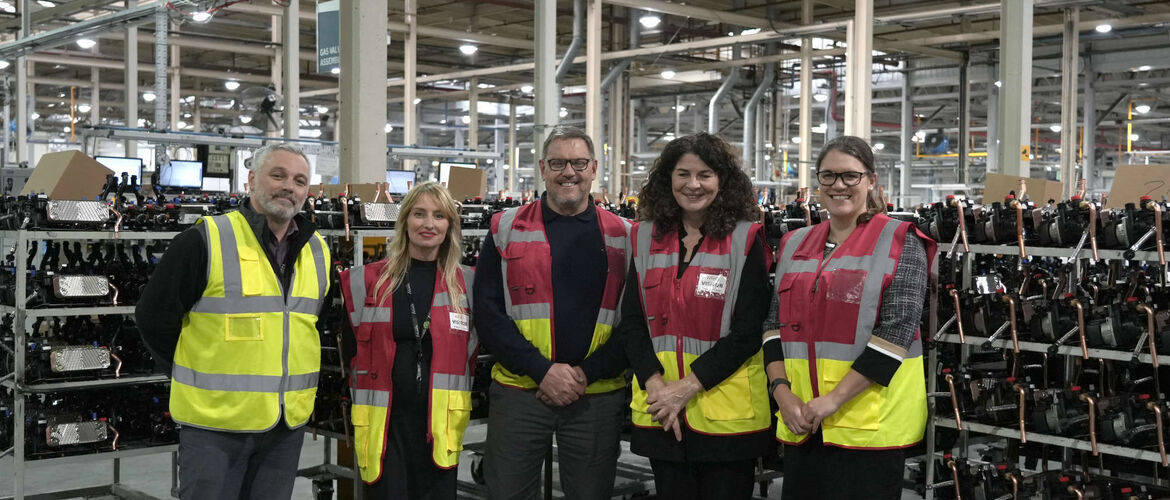 Local Hull MP Dame Diana Johnson visited Ideal Heating to see how they're transforming homes across the country to help them go greener
Dame Diana Johnson, the Hull North MP, visited one of the city's biggest employers, Ideal Heating, last week to find out about how it is leading on the transformation of homes across the UK.
As well as a vast environmental and product expansion focus, the firm has invested £16m in expanding manufacturing at its National Avenue site and is soon to open a new £1m research and development centre specialising in green technology at Bridgehead Business Park, Hessle.
The Hull North MP visited Ideal Heating for a tour of the facility and to find out more about its key role in the future of green heating solutions and as a major employer in the city of Hull.
Dame Diana Johnson said: "Ideal has been in my constituency for over a century. For me, as a constituency MP, it's vital that we have these good jobs of the future. Green jobs in Hull are so important.
"Ideal's work is going to be very important in meeting our climate targets. I'm also particularly interested to hear about the jobs and opportunities for local people - and that's why I'm really keen and really pleased to see what's going on here.
"I think the investment into research and development is key to make sure the company is ahead of the game for future legislation around boilers and heat pumps."
The expansion in Hull, which is currently ongoing, is adding a further 13,000 sqft of manufacturing and warehouse space to allow the development of the green technologies to be scaled up.
Shaun Edwards, chief executive officer at Groupe Atlantic UK, ROI & NA, said: "We were very happy to welcome Diana to our head office and explain how we're expanding our business towards achieving NET Zero targets. It's a very challenging, yet exciting time for us, we're seeing the biggest transformation to the industry since the introduction of high efficiency gas boilers.
"We will be designing, manufacturing, storing and distributing renewable products from our facility in Hull, plus training our customer base from our new training centre in Hessle. This will bring additional jobs as we expand our expertise and workforce."
Diana's visit came on the same day that three members of Ideal Heating's team were crowned winners at the Women in Business Women of Achievement Awards.
Helen Villamuera, engineering director, won the Woman Breaking Boundaries award and Maria Gillum, senior design engineer, was named the top Woman in STEM. Nina Weldrick, apprentice technician, claimed the Apprentice/Trainee prize.