BY Lucy Bannister | Tuesday 7 February 2023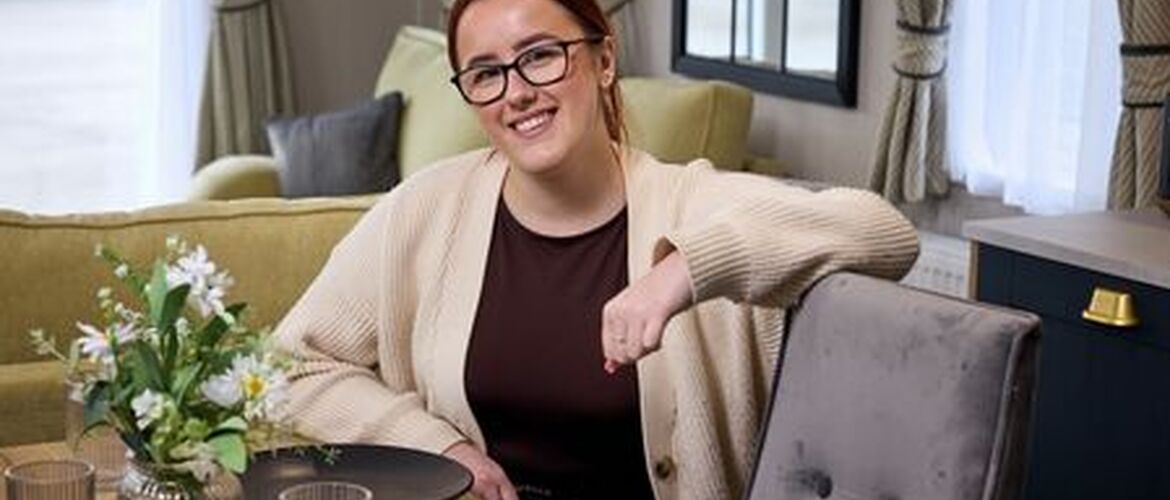 National Apprenticeship Week provides an opportunity to shine a light on the city's amazing apprentices
UK holiday homes industry leader Willerby is celebrating National Apprenticeship Week by sharing the experiences of some its most exciting young talents.
Running from February 6th to 12th, National Apprenticeship Week recognises the remarkable contributions apprentices make to businesses in all sectors.
Apprentices help a business shape its future workforce, nurturing talent within the organisation and bringing fresh ideas, creativity and energy.
Willerby apprentices can be found in all corners of the Hull-based company – from production and fit-out to marketing and IT.
Here, four of Willerby's current apprentices – and one former apprentice who has risen through the ranks to oversee a team of more than 150 people – tell their stories.
Chloe Casey, 21, Marketing Apprentice
I've grown up in Hull and left school at 16 to study at Wilberforce College. It was there, studying business, that my passion for marketing started.
I finished studying during the pandemic and there weren't many opportunities available at that time, so I spent a year working in retail before joining Hull Business Training Centre, where I found the apprenticeship at Willerby.
Everyone has been really welcoming and I felt right at home from day one. This is my first office-based job, but I feel I've picked things up quickly and have really enjoyed the variety of the role.
My day-to-day duties include producing content for the website, managing Willerby's social media inboxes and supporting showground appointments to make sure every customer has the best experience possible.
Last year I had the chance to go to the Caravan, Camping and Motorhome Show at the NEC in Birmingham, which was a great way to see the industry and meet lots of different people.
Niki Reid, 22, IT Apprentice
My route into Willerby was a bit unusual. I originally wanted to pursue a career in video game design and studied that at the University of Hull. When I graduated, I realised the industry wasn't for me. I didn't like the direction it was heading in.

My dad worked at Willerby for about eight years, so I already knew it was a respected company with an excellent reputation.
I'm now about four weeks into my apprenticeship as an IT Software Technician. I'm learning so much every day and the team has been brilliant whenever I've needed support.
My advice to anyone considering an apprenticeship is to go for it and when you start somewhere, make sure to talk to the people in your team. They'll help you if you ask, you don't have to do everything on your own.
Ben Allenby, 18, Electrical Apprentice
My dad and brother both work at Willerby, so that's how I knew about the company. My dad is an electrical tester at the end of one of the production lines and has worked here for about 30 years. My brother also works here in the electrical department.
Willerby helped me settle in really quickly. There are some really good people here which made it so much easier.
I was looking for jobs for a while during Covid, but there wasn't much going, and then I spotted this apprenticeship and went for it.
It's important to enjoy what you do and make sure to have fun, but you also need to get your head down and learn as much as you possibly can. I do four days a week here and one day at college. Hopefully when I've finished my apprenticeship I can stay here for longer.
Tia Murdoch, 18, Carpentry and Joinery Apprentice
I went to school at St Mary's College and after that I got a job as a HGV mechanic for Renault. I was there for a few months before I realised it wasn't the right fit for me, so I went to Orchard Training in Hull to obtain my CSCS card to work on sites.
Currently I do four days a week at Willerby and one day at East Riding College in Beverley studying Joinery and Carpentry.
I work on production line one. I get in at about 6:45am and start working on the shower rooms in each home. It's my job to fit the mirror board and the shower door and if needed I help out in other areas too. It's fast-paced, hard work, but I really enjoy it. It keeps me busy!
My advice to people would be keep at it, never quit and make sure to learn as much as you can. I'd love to stay at Willerby beyond the end of my apprenticeship.
Mark Cook – Line One Production Manager
I left school at 16 and joined Willerby as a plumbing apprentice. That was 10 years ago. I spent three years on plumbing and then two years as a gas apprentice.
I started on three days a week at Willerby, learning the ropes and seeing the different sides of the business, and two days a week studying at Hull College.
After completing my apprenticeship, I became the plumbing tester on one of the production lines. I did that for a year and then progressed to become a plumbing supervisor working under a manager.
I've since been promoted to the Line One Production Manager and look after a team of six supervisors and over 150 operatives. I've always been an ambitious person and I want to keep pushing myself and progressing up within the business.
I wouldn't be where I am today without my apprenticeship. It gave me all the experience and the skills I needed and I was surrounded by some really good people who helped me develop and progress.
It's great to see new apprentices coming through – they're the future of Willerby.