From jamie.goodwin@hullcc.gov.uk | Monday 1 July 2019
Hull charity to use donation to help creatives raise awareness of dyslexia.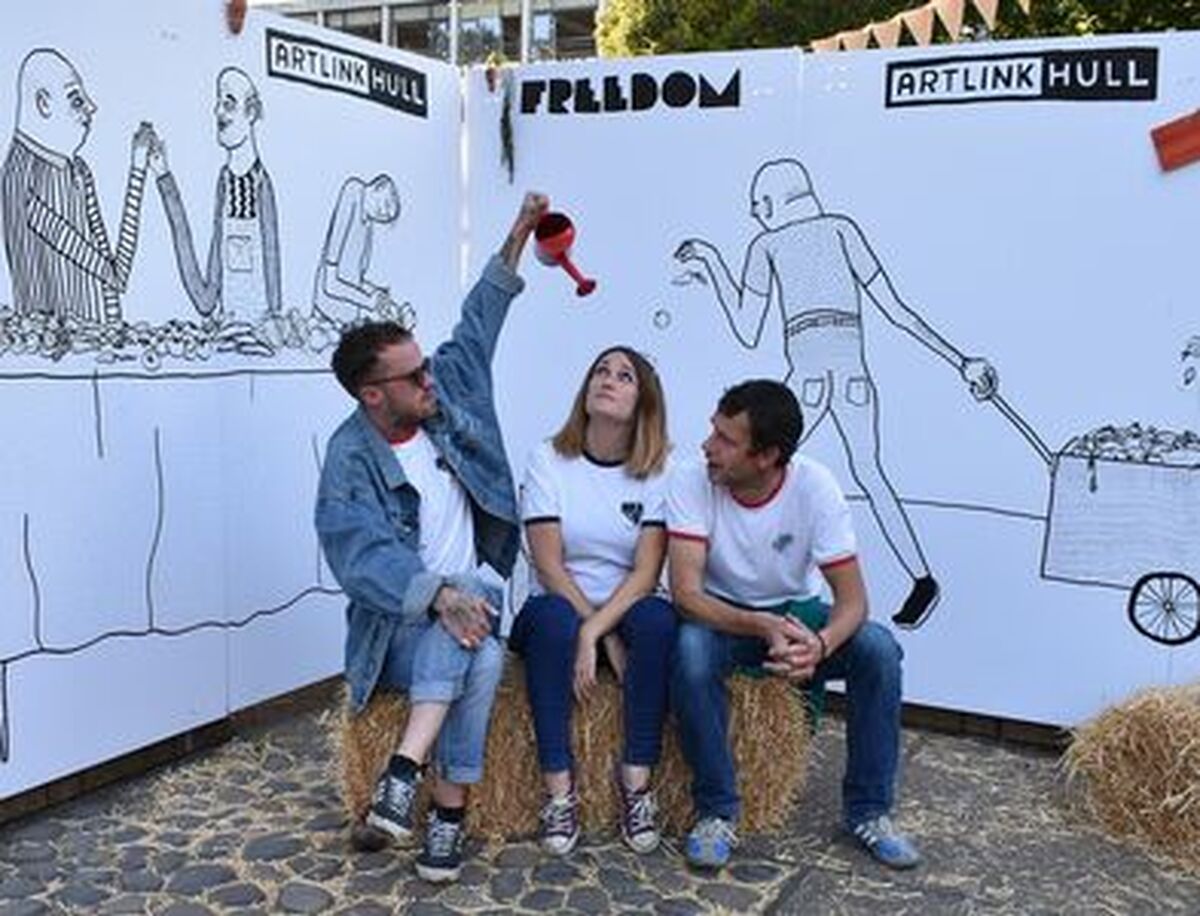 A Hull arts company that works to improve the life chances of children with educational needs has been chosen for a £4,000 funding boost.
Creative Briefs will use the donation from the Hull and Humber Chamber of Commerce through its Chamber Culture Fund to develop a project which will see a group of young creatives produce a street book telling a visual and auditory story to raise awareness of dyslexia.
The project is also being supported with funding from Children in Need and Hull charity Dyslexia Sparks.
Creative Briefs is working towards presenting a work in progress at Humber Street Sesh in August and at Freedom Festival in September, and then displaying the work at libraries and other public buildings later in the year.
The Creative Briefs approach is to bring together young people who have dyslexia to work on a live design project to create accessible forms of art which explore their perceptions of their disability.
Children working on their contributions for a mural at Humber Street Sesh in 2018.
The young participants will take creative control and produce large scale street illustration books, collaborating with musical production company Broken Orchestra and poet by Vicky Foster to create a backing track which complements their own designs.
Jason Bowers, founder of Creative Briefs, said: "We are all extremely excited to receive an award from the Chamber Culture Fund. It allows us to start a project which we wouldn't have been able to do previously and which has so much potential.
"The mentors provided by the Chamber will help our team to test and develop the street book concept to its full potential in Hull and elsewhere in the Humber region."

The Chamber Culture Fund was launched to commemorate the Chamber's 180th anniversary and Hull's status as 2017 UK City of Culture. In 2018, the fund made its first award to support the development of Pale Blue Dot, a play by the Hull-based theatre company Ensemble 52. The panel selected Creative Briefs for this year's award after reviewing bids from across the Humber region.
For information about sponsoring the Chamber Culture Fund, email Phil Ascough at president@hull-humber-chamber.co.uk