BY Michael Berriman | Tuesday 28 February 2023
A major £30m development in Hull, that will feature more than 250 residential and retail units and include stylish new townhouses and an internal winter garden, is the latest transformational project breathing new residential life into Hull city centre.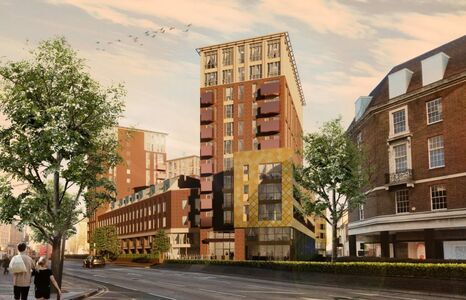 Shirethorn House, and the adjacent land and buildings at the corner of Ferensway and Spencer Street, will incorporate the look and feel of nearby historic buildings while adding a range of dynamic new modern elements, including three towers – one stretching to 14 storeys – that will help shape the Hull skyline.
The development is one of many in Hull recognising and responding to a shifting demographic in people wanting to live in the city centre. In addition to one and two-bed apartments for young professionals, the development will also feature three-bed apartments and townhouses for families.
A range of commercial units and amenity spaces will also be created and designed to provide key services for the residents rather than offering alternatives to other businesses in the city centre.
In recent years, the amount of modern and first-class residential space in the city centre has increased dramatically with large developments around the rejuvenated Marina and Old Town areas.
These properties cover a wide-range of the market, which includes high-end property at developments such as the Glasshouse development on the edge of Queens Gardens, and the nearby Kings development.
The £96m Albion Square Development, in the heart of the city centre, also has a strong residential focus supported by an ambitious urban woodland to compliment the appeal of city centre living.