From jamie.goodwin@hullcc.gov.uk | Wednesday 12 December 2018
Wykeland Group proposing 31,000 sq ft of office space in Fruit Market to reinforce Hull's status as a centre of digital excellence.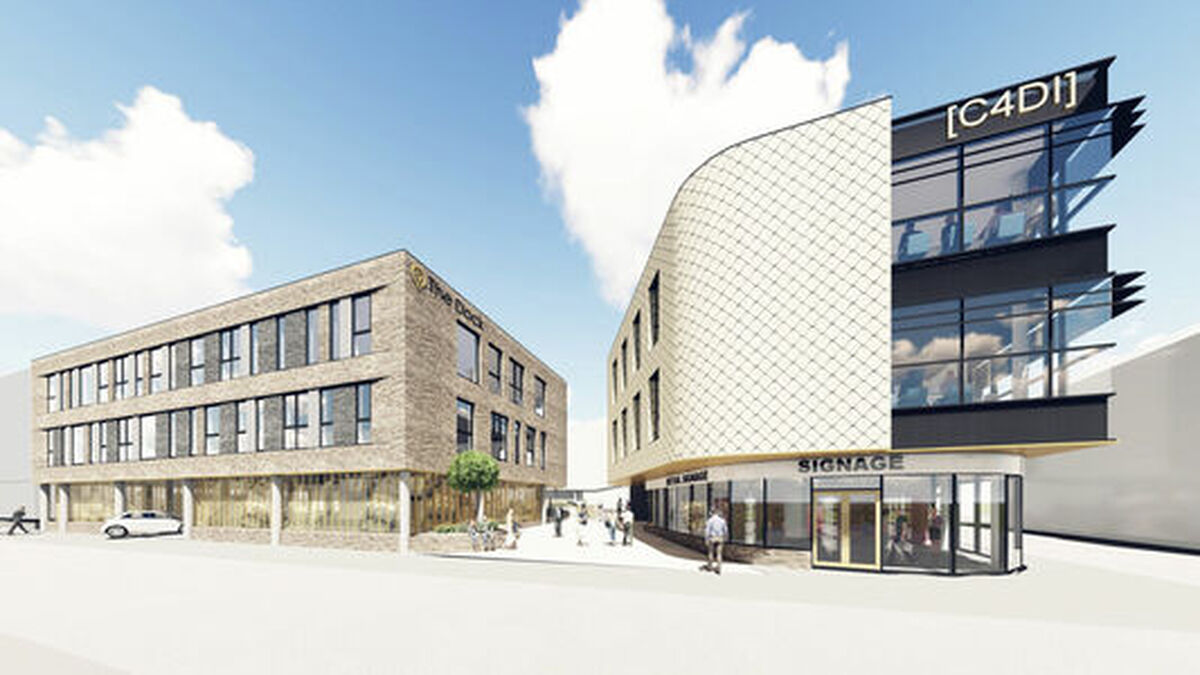 A multi-million pounds plan to extend @TheDock tech campus in Hull's Fruit Market has been submitted to Hull City Council by Wykeland Group.
The Hull-based regeneration company is proposing to develop two further buildings totalling 31,000 sq ft of offices, co-working and meeting space at the @TheDock development.
It is hoped the investment will accelerate the growth of one of the UK's leading digital clusters and reinforcing Hull's status as a centre of digital excellence.
With the successful @TheDock scheme – which has the C4DI (Centre for Digital Innovation) tech hub as its centrepiece – fully occupied, this development would provide space and facilities for tech companies to collaborate and grow, while creating highly skilled jobs.
About 200 start-up or scale-up tech firms are based at or linked to C4DI. @TheDock is also home to digital innovation teams from prestige businesses such as Arco, the UK's leading safety company, and global defence and security leader Saab.
The planning application proposes the new buildings sited to the north and the west of C4DI, on what is now a car park.
Two further buildings totalling 31,000 sq ft are being proposed at @TheDock.
Facilities would include high-quality grade A offices, co-working spaces for digital freelances and specialists, meeting rooms and conference space, all with ultrafast gigabit internet connections.
The additional space would enable C4DI to host more events and education programmes for small and medium-enterprises (SMEs) and expand its support services and incubator programme to develop tech start-ups and scale-ups.

More room would also be dedicated to cutting-edge work being undertaken on key technologies such as the Internet of Things – interconnected networks of devices, vehicles and home appliances.
David Donkin, property director of Wykeland Group, said: "@TheDock has proven to be hugely successful, transforming a derelict dry dock site into a thriving community of tech-based innovation and enterprise. It has provided a focal point for the tech sector in the city with C4DI recognised as one of the UK's leading digital hubs.
"However, C4DI and @TheDock have been fully occupied for some time and there is now substantial pent-up demand from new start-ups to established tech businesses that need space to grow.
"This further investment will add to the hundreds of highly-skilled and well-paid jobs already created on site, while also making a major contribution to the exciting regeneration of the Fruit Market quarter and wider city centre economy."
The C4DI building in Hull's Fruit Market area.
John Connolly, managing director of C4DI, said: "The additional space will enable C4DI to expand its mentoring and support services significantly and continue to develop our successful model of bringing together fast-tech start-ups with traditional businesses that need access to advanced digital skills and expertise."
The new buildings would have ground-floor parking for 43 cars, electric car ports and cycle storage, and two floors of offices above. The ground floor of the western block would also house a small retail unit on the corner of Queen Street and Humber Street.
Together with C4DI, the new buildings would surround a central plaza. A new entrance, via Humber Street, would be built on the alignment of historic Queen's Alley, a former Old Town thoroughfare.
If approved, construction would start next summer, with completion estimated in spring 2020.