BY Lucy Bannister | Thursday 31 March 2022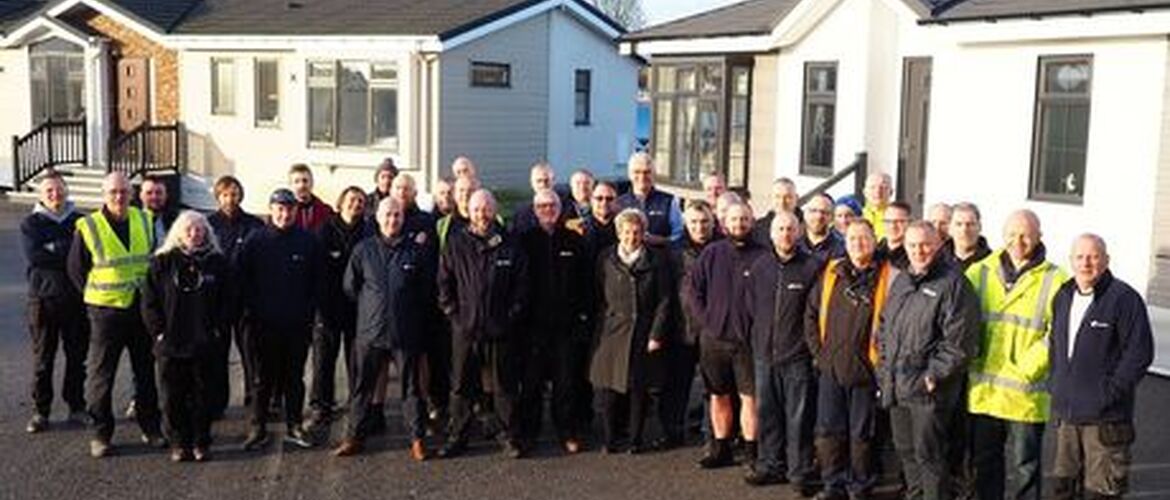 Local holiday home manufacturer Willerby has seen more than 200 staff celebrate an incredible 4,000 years service.
Holiday homes market leader Willerby is celebrating the incredible loyalty of its workforce as more than 200 staff have clocked up 10 years' service or more.
Almost a fifth of Willerby's 1,100-strong workforce have received recognition for their loyalty and commitment to the business, ranging from 10 years to more than four decades of service.
The employees' combined milestones add up to an astonishing total of more than 4,000 years of collective dedication to Hull-based Willerby.
The number of long serving employees reflects the family culture which is one of the greatest strengths of the Hull-based business. As well as having so many employees with decades of history with the company, family connections are common, creating a togetherness in the workforce that is a hallmark of the business.
During a series of long-serving awards ceremonies, Willerby CEO Peter Munk congratulated and thanked the long servers for their admirable dedication.
One colleague, Ian Wilson, has clocked up almost 44 years' service after starting his Willerby career as a 16-year-old apprentice cabinet maker in 1978. He spent 20 years in the cabinet shop before progressing to his current role of prototype joiner.
Ian's job sees him involved in every aspect of building holiday homes and lodges from scratch, working from detailed drawings and making any necessary adaptations as designs come to fruition.
Ian, 59, from west Hull, said: "Although my body feels like I've done 44 years, the time has passed in a flash! I've seen so many changes over the years and the products, machinery and processes have all moved on significantly.
"Willerby is a great company to work for and I love the diversity of the job. I work with good people and it's nice to be recognised for long service alongside so many other colleagues.
"This used to be seen as quite a transient industry and was often associated with seasonal work, but that's not the case now, and it says a lot for Willerby that so many people have stayed with the company for so long."
Ian's brother, Billy Wilson, 61, from west Hull, has also been recognised for his commitment to Willerby after dedicating more than 30 years to the company. He began his career as a machinist in the prototype department and is now a research and development team leader.
The long servers recognised by Willerby also include sales administration lead Kerry Anderson and her father Terry Anderson, an aftersales coordinator. Kerry has notched up 19 years' service in two spells at the company while Terry has achieved 16 years.
Kerry, 35, from east Hull, said: "I like working at Willerby because we're a family and it's nice to achieve this milestone alongside my dad. I hope to stay here for many more years to come. Willerby is a good company to work for and I feel valued."
The most recent long service awards include all Willerby staff who reached their milestones up to the end of December 2021 and the recognition scheme is set to continue in the years ahead.
A total of 86 employees have reached 10 years' service; 40 have achieved 15 years; 51 are celebrating 20 years; 22 are marking 25 years; 25 have clocked up 30 years; and eight have remained with the company for 35 years. Ian is the only colleague to achieve more than 40 years' service to date.
All the long-serving workers received certificates and a bottle of fizz for reaching their career milestones. Employees who have achieved 10 or 15 years' service or more also received a voucher, while staff who have achieved 20 years or more received a loyalty bonus, which will be repeated for every additional five years they remain at Willerby.
Susan Pender, head of people at Willerby, said: "We're really proud to have so many employees who have achieved long service awards and we feel it's important to recognise these achievements.
"We truly value their commitment, skills, knowledge and expertise and we want them to know that their loyalty does not go unnoticed. Many of these employees have seen significant changes at Willerby and in the industry over the years and have lots of stories to tell and experience to pass on.
"Their commitment has helped to shape Willerby and make us what we are today. We congratulate them all on reaching these long service milestones and thank them for their dedication."
As well as having so many long-serving employees, Willerby is also committed to developing a new pipeline of talent as the business grows and responds to the huge demand for high-quality holiday homes and the increasing popularity of staycations.
In its latest entry level recruitment, Willerby has created 30 new opportunities for young people to begin exciting careers with the market leader in the biggest intake of apprentices in the company's 75-year history.
Congratulating employees who have received their long service accolades, Willerby CEO Peter Munk said: "It's absolutely fantastic to have so many staff with such a wealth of experience in the business.
"However, it's equally wonderful to have great new talent coming through and seeing our experienced colleagues passing on their skills and knowledge to the younger generation.
"Their commitment and loyalty to Willerby should be rewarded and celebrated and we're delighted they've chosen to grow and develop their careers here."