From jamie.goodwin@hullcc.gov.uk | Friday 29 November 2019
Young activist earns applause from delegates at Humber decarbonisation event The Waterline Summit.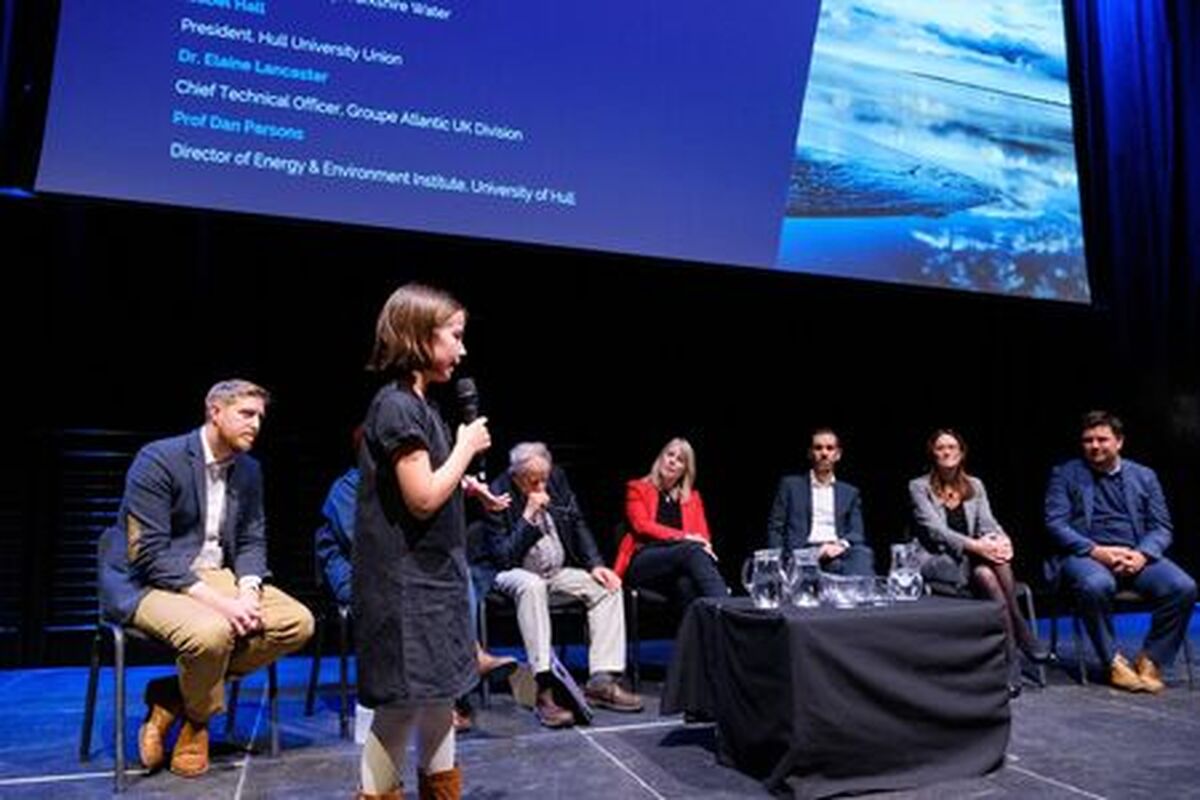 A 10-year-old schoolgirl has challenged Humber business leaders not to abandon her generation to climate change.
Lucie Parsons earned applause from delegates at The Waterline Summit, the Humber's flagship decarbonisation event, when she told them children relied on adults to not waste any more time in tackling the rapidly evolving climate catastrophe.
Lucie is an ambassador for the iwill campaign, which promotes social action among young people, and a supporter of the Kids Against Plastic charity which brings children together to tackle plastic pollution.

She has also inspired her classmates at an East Yorkshire primary school to join her in campaigning to protect the environment.
"We humans are responsible for climate change and we need to stop it and stop it now. We need to stop releasing greenhouse gases and change our carbon usage," Lucie told hundreds of business and community representatives at the Bonus Arena in Hull.
She said: "Today I'm asking you to help. We need to take from the world only what we need and replace it with love.
"My question to you is 'what will you do?' Will you help other children like myself to build a better friendship with the world and heal the mistakes we have made?
"Will you help to protect the things that we're killing? We need your help. Will you help us?"
Organised by Marketing Humber, The Waterline Summit positioned the region at the forefront of the critical fight against climate change. It featured an exhibition of 50 projects and initiatives addressing climate challenges.
The Waterline Debate featured a panel of business and community leaders and environmental experts who discussed how climate change presented both devastating risks and economic opportunities for the Humber.
Lucie opened the debate, highlighting the threat to current and future generations and how young people the world over have propelled climate action to the forefront of public and political debate.
Keynote speaker and chair of the panel was climate change expert and broadcaster Dr Gabrielle Walker, who advises governments, businesses and humanitarian groups across the world on responding to the climate emergency.
Dr Walker said another schoolgirl, Greta Thunberg, had turned her solo school strike for climate in Sweden into global demonstrations supported by millions of children and adults.
"There is a palpable sense of emergency and crisis and the kids are leading the way. We need to feel proud of their generation and ashamed of ours," she said.
The panel included Lucie's father, Professor Dan Parsons, director of the energy and environment Institute at the University of Hull.
Prof Parsons said the University of Hull's commitment to be the UK's fastest decarbonising university was a "truly ambitious" objective with a detailed plan behind it.
"Do we have all the answers? No," he said. "This is about setting a vision. It's akin to President Kennedy saying in the 1960s that we're going to the Moon. The vision is what's most important and the trajectory that takes you there."
Dr Walker closed the debate by inviting Lucie to give her verdict on what she had heard and the responses to her opening challenge.

Lucie repeated her call for everyone to follow up words with action. "If everyone in this room takes something from this away with them and actually does something then The Waterline has been a success," she said.