BY Lucy Bannister | Tuesday 23 November 2021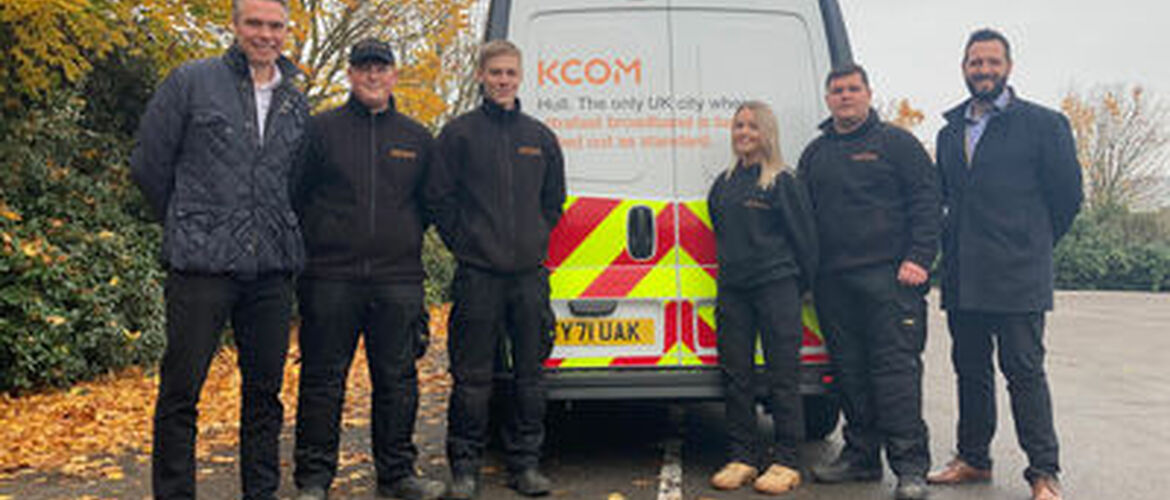 The broadband provider is now hoping to recruit even more next year as part of its long-term plan to invest in the region
Four KCOM apprentices have taken a step towards rewarding careers in technology by successfully completing their apprenticeships.
The four, Henry Johnson, Katie Hook, Joe Layden and Tom Nielson have all completed a 14-month apprenticeship and will now move into full trainee engineering roles with the award-winning Hull-based broadband provider.
During their apprenticeships the foursome have experienced every aspect of life at KCOM's Wholesale & Networks division; from engineering and resource planning to running the business's core network, cable jointing and installing fibre broadband.
Tim Shaw, managing director of KCOM W&N, said he had been delighted by the enthusiasm and energy the apprentices had brought to the business.
He said: "I'm absolutely delighted for these four apprentices who will now go on to be full engineering trainees and take another step towards the wider world off work.
"I've been blown away by their commitment, attitude and focus and also by the energy they have brought to the business.
"I know they have learned a lot from being around our experienced team members, but it's a two way street and I know we've also learned a lot from them too – especially from their new ways of thinking and enthusiasm. It's shown us as a business how we have to adapt and grow to attract the next generation of local talent into the business."
Apprentice Henry Johnson, 19, from Hedon, added: "I have really enjoyed the apprentice program at KCOM, I feel there has been great balance in getting my field training in each area of engineering, and having time for my coursework towards my portfolio. My colleagues have supported me throughout and given me the practical skills and confidence to become a productive member of the team."
The four apprentices to graduate to full trainee engineer positions are the first of ten who started with KCOM in 2020. The broadband provider is now hoping to recruit another ten next year as part of its long-term plan to invest in the East Yorkshire and North Lincolnshire region and create a conveyor belt of local talent to fill skilled positions.
Also celebrating this week is KCOM trainee electrician Henry Jordan who has completed a three year Institute for Apprenticeships & Technical Education Level 3 diploma.
Henry, from Hull, who is now a full qualified electrician, said: "I've really enjoyed the last few years and I've got to do things I'd never thought I'd be able to do. The team around me has been really supportive and helped me every step of the way. To be fully qualified is a great feeling and I'm looking forward to starting the next stage of my career at KCOM."
Tim Shaw added: "It's a real pleasure to see Henry gain his qualification after all the hard work and effort he's put in. It's fantastic to see our investment in creating opportunities for local people like Henry come to fruition as they work their way though their qualifications and become integral, skilled members of their teams."