From jamie.goodwin@hullcc.gov.uk | Thursday 31 October 2019
Greenpower Education Trust to display low-emission vehicles to Energy and Clean Growth in the Northern Powerhouse in Hull next month.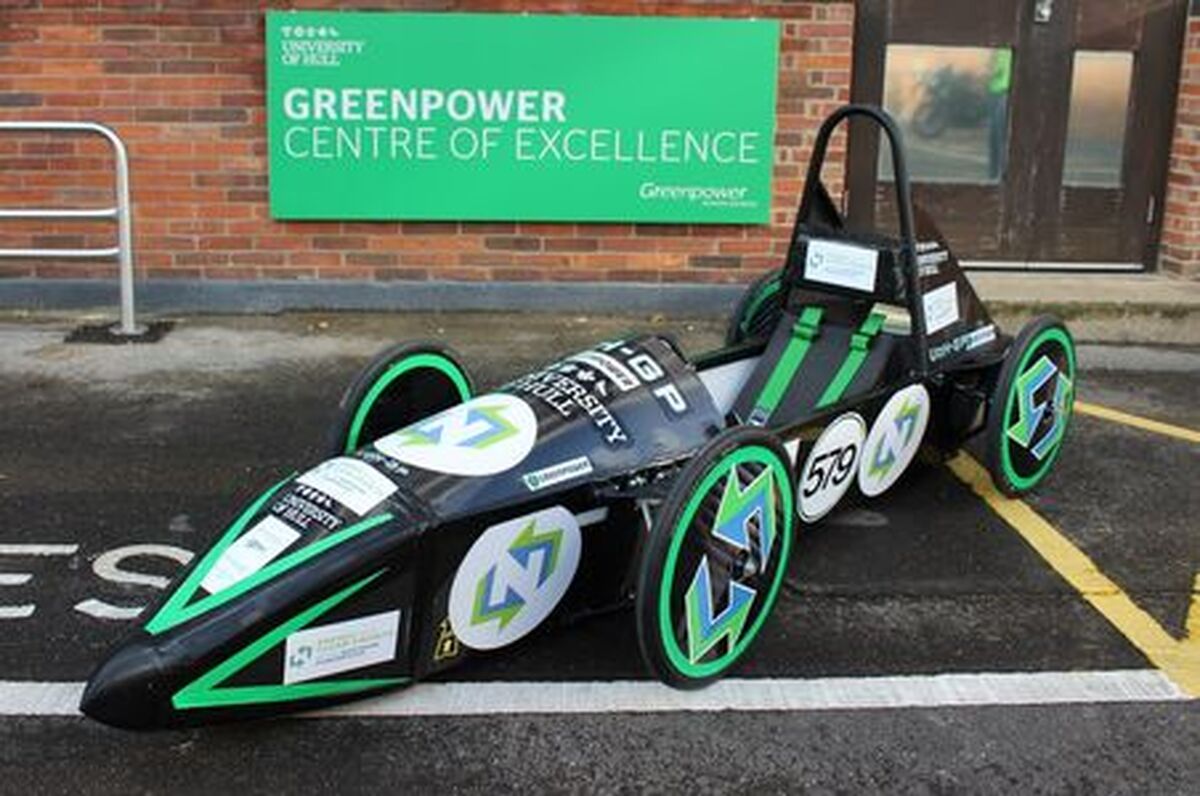 An innovative charity that brought the UK's first ever electric race on closed roads to Hull will be back in the city to display their cars and projects at an exciting energy conference next week.

The Greenpower Education Trust was recently nominated for the Innovation in STEM Inspiration Award for providing opportunities for young people aged from nine to 25 to build their own electric-powered kit cars.
The trust will be exhibiting at the Energy and Clean Growth in the Northern Powerhouse conference and exhibition at the Bonus Arena on November 5 and 6.
And the conference – the first convened by the 11 Northern Local Enterprise Partnerships to discuss the energy sector and decarbonisation in the region – will see Greenpower will host a stand featuring these low-emission kit cars, including one decorated with the event's branding.
The race in April 2019 saw roads in Hull city centre closed for cars to race on the streets around the Guildhall, as groups of young people from schools and colleges across the area took part in races. The event was sponsored by Green Port Hull and supported by the Regional Growth Fund.

Councillor Stephen Brady, Leader of Hull City Council, said of the race: "We are delighted to support this fantastic project which puts young people in position to learn practical engineering skills as well as how to work as a team through support from local mentor companies. As we saw earlier in the year, it is a wonderful sight to see these teams racing through the city centre and we look forward to the return of the event.

"This event encourages young people in the STEM subjects of science, technology, engineering and maths by offering pupils a creative way to learn about these key subjects and hopefully one day have the option of an exciting and rewarding career in these sectors."

The stand will also feature a wheel-change challenge offering delegates the opportunity to test their own engineering prowess in timed tasks.
The charity has a Greenpower Campus at the University of Hull to support those taking part in events in the Humber area, with facilities including tools to assemble F24 Greenpower cars and components.
Lord Chris Haskins, Chair of the Humber Local Enterprise Partnership who are organising the conference on behalf of the Northern Powerhouse, said: "Greenpower has opportunities for young people not just to learn about engineering but to also think about green energy – something that will be a key topic at this conference. Young people are very much engaged with creating an environmentally friendly society so it's especially great that those in the Humber have been given this brilliant opportunity."

Paul van Veggel, CEO of the Greenpower Education Trust, said: "We are delighted to be attending the Energy and Clean Growth conference in order to continue our longstanding successful relationship with the region and the sector. We could not be more proud of all that these young people have achieved and are really looking forward to engaging even more teams across the Northern Powerhouse in 2020."