From jamie.goodwin@hullcc.gov.uk | Monday 5 October 2020
More than a dozen restaurants, cafe-bars and pubs have combined to reduce prices for the promotion.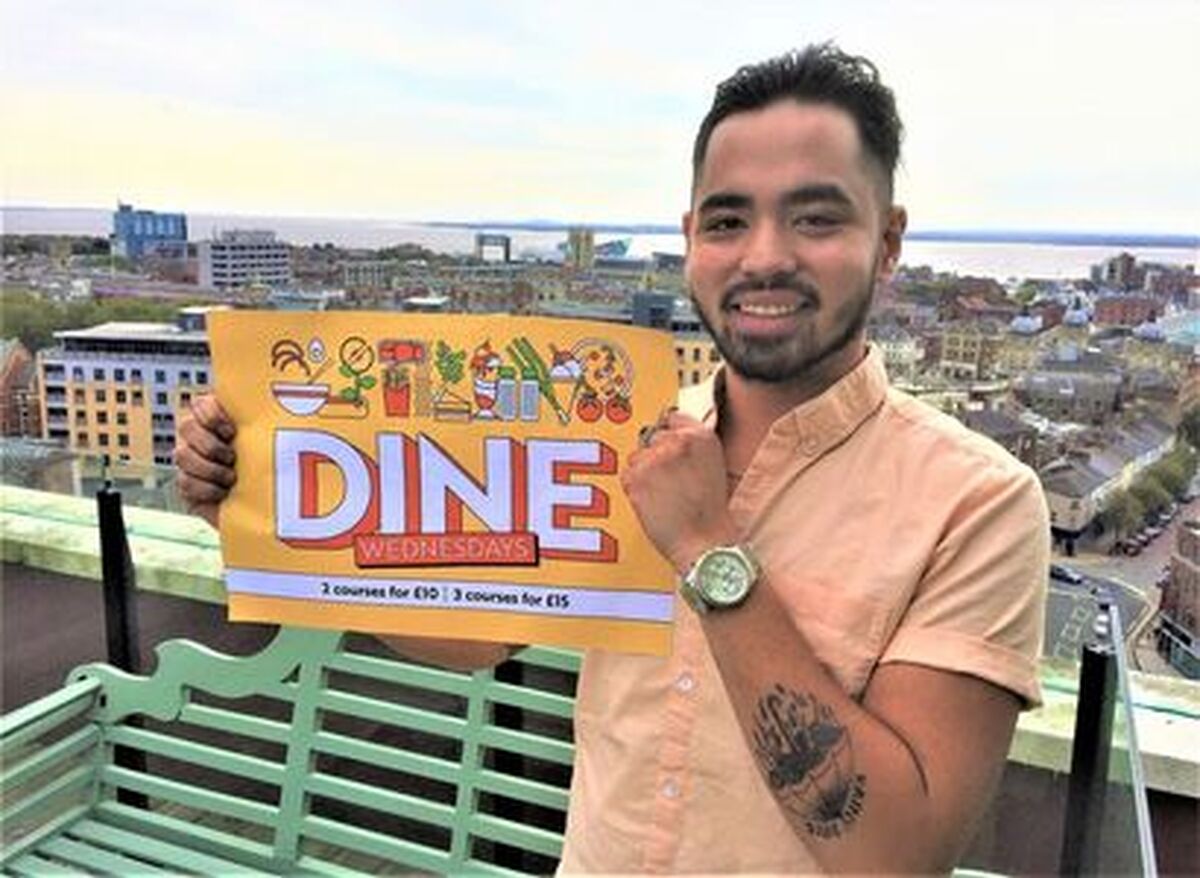 Food and drink businesses through Hull city centre are serving up delicious discounts in partnership with HullBID as they join forces to tempt diners back to their tables.
More than a dozen restaurants, cafe-bars and pubs have combined to reduce prices for Dine Wednesdays, with foodies looking forward to tucking in to a variety of cut-price cuisines.
All the venues taking part are adhering to the most rigid Covid-19 precautions as they embrace the initiative which will see them serve up two courses for £10, with many creating special menus.
The deals will be available every Wednesday until the end of November. Service will be from 4pm with last orders at around 8.30pm depending on demand as operators stick to the 10pm curfew. Some eateries have said they will also offer the discounts during the afternoon.
Mac de Leon, who stepped in just over a month ago as manager of The Junkyard Cafe Bar on the 12th floor of the K2 tower, has created a special menu for the promotion.
He said: "It's a fantastic location – the only place where you can dine with a cityscape view and on a nice day the roof garden upstairs is even better. But I found that 80 per cent of my friends didn't know where it was so I'm doing a lot more on social media. We have also changed the menu and the cocktail menu and we're getting new people coming in.
"Eat Out to Help Out was really busy and it's good to be able to follow that with Dine Wednesdays. We've created a special menu which will hopefully attract people in to see what we do. We'll also have the main menu available."
Kathryn Shillito, HullBID executive director, said: "Feedback from the food and beverage sector in the city centre indicates the Eat Out to Help Out scheme helped immensely in challenging times but there were concerns about what would happen next.

"Some of them continued the eat out offer at their own cost because they saw it as a good way of rewarding regular diners and showcasing their food, drink and service to new customers, but we are stepping up to offer support to the sector as a whole."
Other venues taking part include Furley & Co in Princes Dock Street, The White Hart in Alfred Gelder Street, Thieving Harry's in Humber Street, Little Somboon Kitchen at The Taphouse in Humber Street, Bert's Pizza and Gelato in the Fruit Market, Solita at Freedom Quay, The Minerva in Nelson Street, The Sailmakers Arms in High Street, Temptation in St Stephen's, Tanyalak in George Street, The Omelette in Albion Street, the Whittington & Cat in Commercial Road and the Kingston Theatre Hotel in Kingston Square.
Find the latest updates on Dine Wednesdays here.