From jamie.goodwin@hullcc.gov.uk | Wednesday 27 November 2019
102-year-old son of trawler's skipper has signed two of the Homeward Bound calendars produced by the Viola Trust.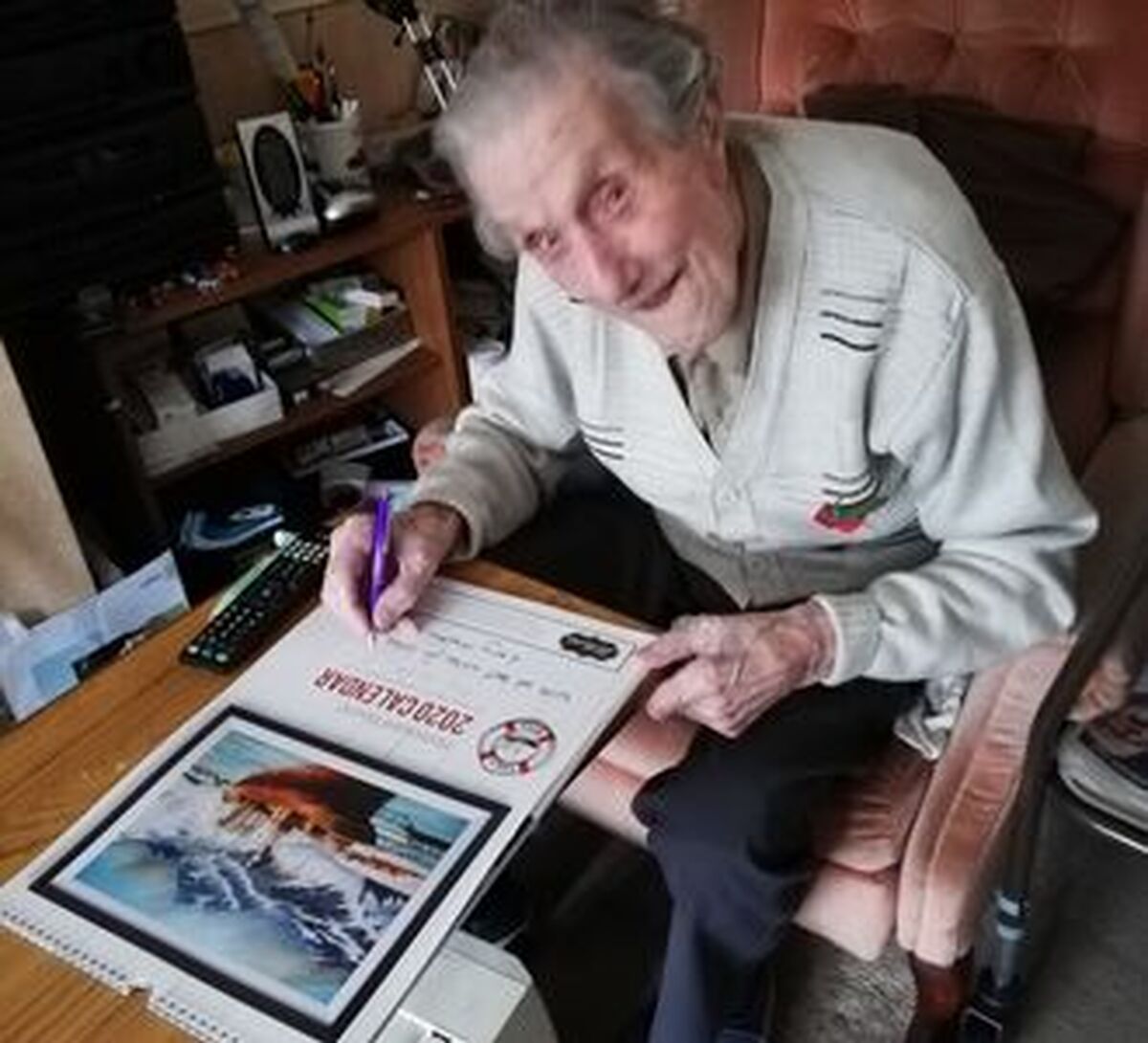 The 102-year-old son of a former skipper of the Viola trawler has signed up to support two of his favourite charities after they joined forces.
Eric Tharratt has signed two of the Homeward Bound calendars produced by the Viola Trust to raise awareness and money for the campaign to bring the Viola trawler back to Hull.
The two calendars - plus a place at the official Viola welcome home party - will be sold in a silent auction by the Sailors' Children's Society.
Eric, of St Nicholas Avenue, Hull, is the eldest of five children whose father, George William Tharratt, was skipper of the Viola before the First World War.

"It's wonderful that these calendars are to be auctioned for such good causes," said Eric. "The Viola was once my dad's ship."
The two calendars have also been signed by Larry Malkin, the Holderness artist who came up with the idea of painting a selection of vessels from Hull or with strong connections to the city.
Artist Larry Malkin with some of the paintings featured in the calendar. Picture: Robert Bentley
Sponsors including Andrew Jackson Solicitors, Arco, RSM UK, SMS Towage and 1884 Wine & Tapas Bar covered the cost of printing 500 copies of the calendar. There are just 50 remaining – with just the two held by the Sailors' Children's Society carrying the signatures of both Eric and Larry.
The Viola features on the cover of the calendar and for the month of April. Other featured vessels are the Kirkella, Humber Barges, Norland, HMS Bounty, Lincoln Castle, HMS Britannia with HMS Yarmouth, Manxman, Sea Challenger, Arctic Corsair, Rialto and Diana.
Hull gin on its way to Falkland Islands in bid to return historic Viola trawler to city
Copies of the calendar are available from Hotham's Distillery, 1884 Wine & Tapas Bar and the Maritime Museum in Hull city centre as well as from selected Post Offices and newsagents. Order a copy by emailed info@violatrawler.net

The auction for the two signed copies will close on Monday 16 December, with the two charities splitting the proceeds. Send email bids to to wendy.fish@sailorschildren.org.uk or call 01482 342331.