BY jamie.goodwin@hullcc.gov.uk | Friday 19 October 2018
Partner Simon Pownall agree deal to supply award-winning restaurant 1884 Wine and Tapas Bar.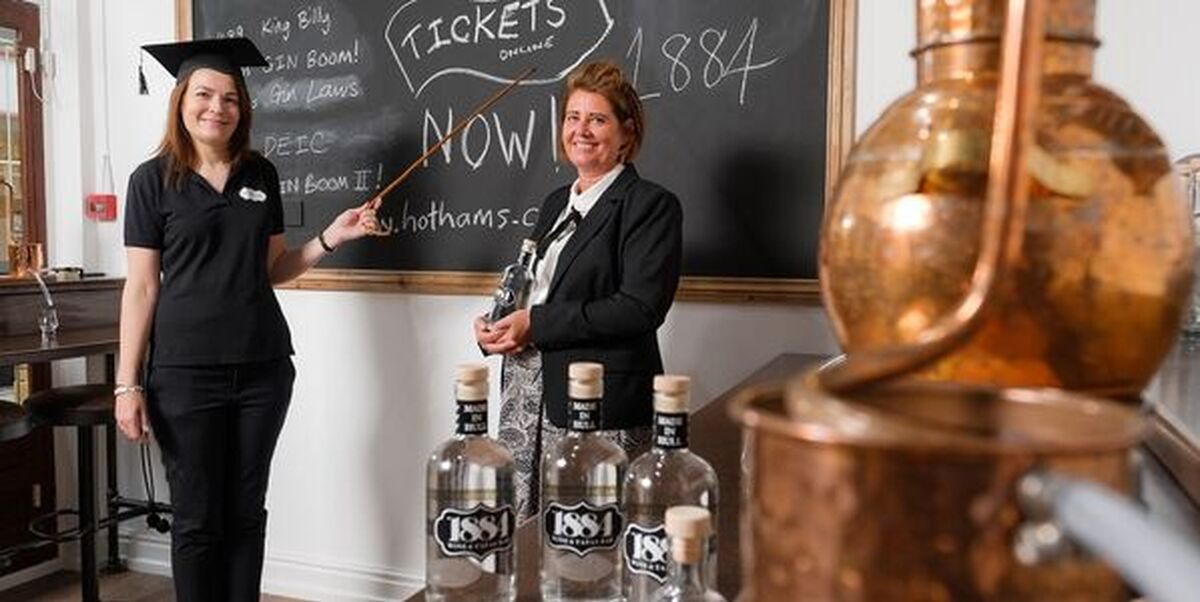 A qualified teacher has opened her own classroom in a Victorian shopping arcade after making the switch from GCSEs to gin.
Emma Kinton and her partner Simon Pownall have issued glowing reports on the students who have started the new term at Hotham's Gin School – and they've received top marks themselves after agreeing a deal to supply award-winning restaurant 1884 Wine and Tapas Bar.
The restaurant sealed the deal after Simon spotted the 1884 Wine and Tapas Bar ice cream tricycle at a HullBID event during the summer.
Deborah Spicer, director at 1884 Wine and Tapas Bar, said: "We use local suppliers as much as we can and we'd looked into getting our own gin made. We came across the gin school when we took a stall at one of the HullBID events, and we found that Emma and Simon can supply very nice gin which is made less than a mile away in the sort of quantities that we need.
"It's proving very popular and I'm confident we'll be ordering some more and maybe also asking them what else they can come up with."
The couple kept up their day jobs as they put together the plans for the business venture. Simon still works for the University of Hull, but Emma has now taken a complete break from conventional teaching to become head of the school in Hepworth Arcade, Hull.
Instead of preparing students for their English GCSE exams, she is teaching everything you ever wanted to know about gin – the science, the history and the right mix to make perfect cocktails.
The former hair salon in Hepworth Arcade, Hull, has the look of a chemistry lab with mini-stills along the work tops, a large blackboard on one wall and jars of mysterious substances lining the shelves. There's even a mortar board – and a cane.
Emma said: "It's not to control unruly pupils – our students are all extremely well-behaved because they find the subject very interesting. It's to point out the ingredients on the shelves, and the mortar board comes in handy for our graduation pictures."
In addition to holding classes in the Grade II listed building, Emma and Simon produce their own-brand hand-crafted gin – with cardamom a speciality – and sell at pop-up gin bars at events including the Hull Street Food Nights, organised by HullBID.
Emma said: "Getting involved with HullBID has been so good for us. We took some samples to 1884 Wine and Tapas Bar and they really liked the cardamom gin so we came up with a branded version just for their restaurant. We have a small set-up so we only do tiny batches, but we've completed an initial delivery of 25 bottles at 50cl."
Kathryn Shillito, HullBID city centre manager, said: "Hotham's Gin School and 1884 Wine and Tapas Bar are two local, independent businesses which are each building an excellent reputation for quality and innovation in food and drink.
"It's great to know that they came together because of one of our events. We know that businesses benefit from the huge crowds which flock to the city centre for our events and this partnership shows they can also boost trade by talking to each other and working together."