BY Sam Walker | Monday 16 October 2023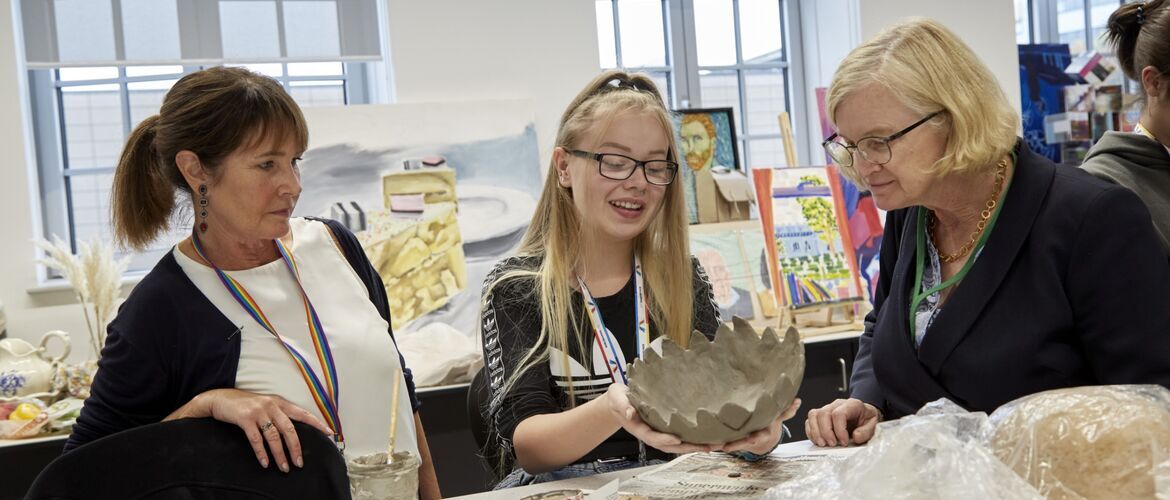 Ofsted's Chief Inspector has praised Ron Dearing UTC's employer-led model of learning after visiting the pioneering Hull school.
His Majesty's Chief Inspector Amanda Spielman and a team of inspectors were given a tour of Ron Dearing UTC, including its recently opened STEAM Studios centre for creativity, to see how it is preparing students for rewarding careers across a range of sectors.
Ms Spielman had been encouraged by Senior Ofsted Inspector Lee Elliot to personally visit Ron Dearing UTC and find out for herself how its unique employer-led curriculum is meeting employer needs.
Mr Elliot led the team of inspectors at the school's last Ofsted inspection in 2020, when it was rated 'Outstanding' across the board.
Ms Spielman, Mr Elliot and fellow Senior Ofsted Inspectors Alison Aitchison, Zoe Lightfoot and Rachel Angus met with Ron Dearing UTC Principal Sarah Pashley and other members of the senior team, along with representatives from the Governing Board, including Chair Richard Martin.
They heard from school alumni who have gone on to exciting apprenticeships with leading companies including engineering specialists Spencer Group, a Founding Partner of the UTC, and safety experts Arco, a Major Partner.
The team were told how Ron Dearing UTC's employer partners help shape its curriculum to equip students with the skills and knowledge they need to be successful in industry, as well as higher education study.
They were then given a tour of the facilities, where they spoke to students engaging in practical lessons in subjects including Fine Art and Graphics, Computer Aided Manufacturing (CAD) and Mechatronics.
Ms Spielman said: "Ron Dearing UTC is an outstanding school that is helping to meet local and national employment needs while offering real choice for students who want to specialise in digital, creative and engineering technology.
"The school's employer-led curriculum and cutting-edge facilities, including the new STEAM Studios, are very impressive and I thoroughly enjoyed seeing what the students are working on."
Ron Dearing UTC, in Kingston Square, city centre, opened STEAM Studios in the former Hull Fire Station next door last month to support and inspire its growing number of students.
The site has been renovated and repurposed to create an innovative hub including a gallery and exhibition space, digital and photography studios, 2D and 3D studios, as well as an additional sixth form independent study centre.
It is part of wider expansion work at the school, which included remodelling parts of the existing UTC building to create research and development science laboratories and independent study spaces.
The expansion has enabled the UTC to increase its capacity from 600 to 800 students following funding from the Department for Education's (DfE) Post-16 Capacity Fund, in response to huge demand for student places.
The school, which has been oversubscribed every year since it opened its doors in 2017, has already filled all its additional places and reached its new capacity – a year ahead of schedule.
World leading renewable energy company Ørsted, which develops, constructs and operates offshore wind farms across Europe, is a Major Partner of Ron Dearing UTC and has made a substantial financial contribution towards the school's expansion.
Ms Pashley said: "We were delighted to welcome Amanda and the team of inspectors to Ron Dearing UTC to showcase the work we're doing to inspire and prepare our students for exciting careers, whilst addressing the skills gap and meeting local and national employer needs.
"We were also very proud to give them a tour of our newly expanded facilities, and to let them hear from the students themselves about what they're studying and how we're supporting them to achieve their goals."
Ron Dearing UTC's Founding Partners are the University of Hull and leading local employers KCOM, Reckitt, Siemens Gamesa, Smith+Nephew and Spencer Group. The school is also supported by Hull City Council alongside many other Major Partners and Partners.