From jamie.goodwin@hullcc.gov.uk | Monday 19 October 2020
Iconic Hull pub to be moved brick by brick as A63 improvements proceed.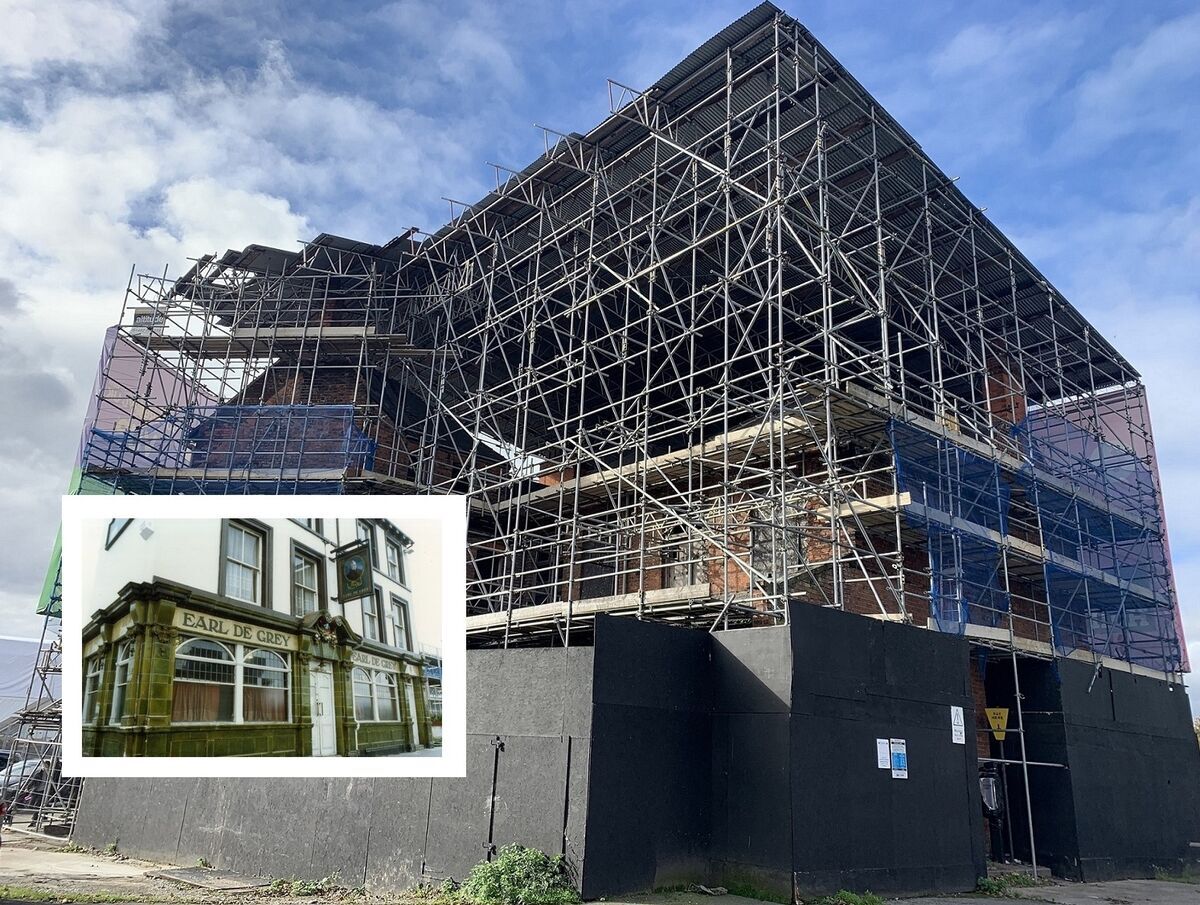 The careful deconstruction of one of Hull's most historic pubs begins this week, before the listed element is rebuilt brick by brick in a new location.

The Earl De Grey in Castle Street has been closed for many years and now has to be moved in order for the A63 improvements to proceed.
The future of the historic part of the grade II-listed building was secured last year as part of a successful planning application by Castle Street Buildings LLP, a wholly owned subsidiary of leading developer Wykeland Group
The project, developed in full consultation with Hull City Council, Historic England and Highways England, also involves the refurbishment of the neighbouring Castle Street Chambers building.
In the highly unusual heritage project, the historic frontage of the Earl De Grey will be meticulously taken down by hand, one piece at a time.
All the parts will be individually tagged and laid down on pallets, which will be stored until the building can be reconstructed next year in its new location adjoining Castle Street Chambers and facing Waterhouse Lane, around 40 yards away. There it will form part of a new, high-quality area of public realm incorporating the Bonus Arena.
Scaffolding has now been erected around the pub and the footpath at the front has been closed, with the painstaking process of dismantling and storage expected to take up to five weeks. The unlisted back of the building will be demolished.
Hull-based Wykeland is using specialist listed building and heritage project contractors to carry out the works.
Jonathan Stubbs, Development Director of Wykeland, said: "The Earl De Grey is one of Hull's oldest pubs and we fully appreciate the responsibility we have to preserve this important part of the city's rich heritage.
"We are using specialists in this particular field because it is a unique project."
The comprehensively repaired and renovated Earl De Grey and Castle Street Chambers buildings will ultimately be linked by a glazed extension, in order for them to be brought back to life for public use, potentially as restaurants, cafes, bars or offices.
Work on Castle Street Chambers is expected to begin next year. A new pedestrian route will also be created from the Bonus Arena to the new footbridge over Castle Street, which is due to open shortly, linking the city centre to the thriving Marina and Fruit Market areas.
First known as the Junction Dock Tavern, the Earl De Grey dates back to the 1840s and was a popular haunt for Hull's seafarers and sailors from around the world who docked in the city during the 19th and 20th centuries.
As part of the restoration project, Wykeland appealed for people to share their memories of the pub. Anyone with memories or photographs of the Earl De Grey can email them to memories@wykeland.co.uk