BY Sam Walker | Wednesday 24 May 2023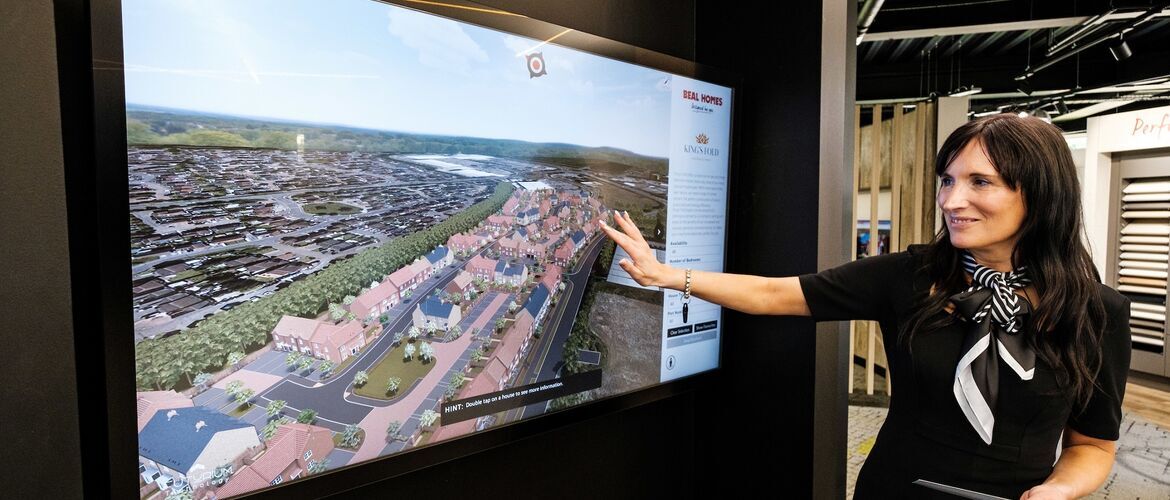 Househunters snapped up new homes with a total value of more than £1.6m as Beal Homes launched a much-anticipated new development in Hull
The launch event for the £30m King's Fold development in the city's popular Kingswood Parks community saw customers reserve seven of the 12 homes in the first release.
The launch was the first to be held at the housebuilder's newly-opened Beal Showroom at Bridgehead business park in Hessle, East Yorkshire, which offers industry-leading customer experience facilities.
Househunters who attended the launch were able to experience a 3D visualisation of King's Fold, allowing them to take a virtual stroll through the streets of the development and view the house types and plots using state-of-the art digital technology.
The event also offered the opportunity to experience the stunning Beal Design Lounge, where buyers work with the housebuilder's expert design team to customise their new home and make it a perfect fit for their lifestyle and tastes.
King's Fold will feature more than 150 two and three-bedroom contemporary homes built in mews style and arranged around courtyards to create a village feel.
The 10-acre site, off Barnes Way, offers an aspirational suburban lifestyle, with a great choice of schools, shopping, restaurants and entertainment options on the doorstep.
Construction is due to start this summer, with the first buyers expected to move into their new homes in mid-2024. Homes in the first release are priced from £188,995 to £269,995.
Probation Officer Hollie Draper, 29, was the first to reserve at King's Fold and is looking forward to moving into her three-bedroom Dalby home with husband Robert and their son Bobby, three.

First-time buyers India Shields, 27, and her partner Elliott King, 26, reserved a three-bedroom Butterwick at King's Fold.
India, a pastoral head of year at a secondary school, said: "We're really excited. We've been talking about buying our own home for a long time and Kingswood is the ideal area for us to do that.
"We'll be close to family and we'll have everything we need on our doorstep. We also love that you have so many options available to you with Beal and we're looking forward to making our choices."
House types in the first release at King's Fold include the two-bedroom Brompton Special, including two parking spaces, the three-bedroom Roxby Special and Dalby, all including dual parking spaces, and three-bedroom Butterwick with an integral garage.
Dan Blanchard, 45, and his partner Alicia Tuck, 26, currently rent their home in Kingswood and are waiting for a three-bedroom Dalby to be released on their preferred plot at King's Fold.
Dan, an Operations Technician, said: "We like the area and have been waiting for new homes to be available in this location. We love the space and layout of the Dalby and the quality of Beal's homes is brilliant.
"We had a look at Beal's St Mary's View development in Beverley, which helped our decision-making, and we've enjoyed looking at the virtual tours of homes on the Beal website."
Beal Sales Operations Manager Jamie Barrington said: "The King's Fold launch was a big success and has got the development off to a great start.
"King's Fold is in a highly sought-after location within a community that continues to be very popular, as shown by the initial reservations and strong interest in the development. Almost 300 people registered their interest in King's Fold ahead of the launch.
"This is the first sales launch event we've held at our Beal Showroom and it was great to welcome so many visitors to our own new home. We really enjoyed showcasing the facilities and technology we have to help customers find the development and house type that is just right for them."