BY Sam Walker | Monday 3 July 2023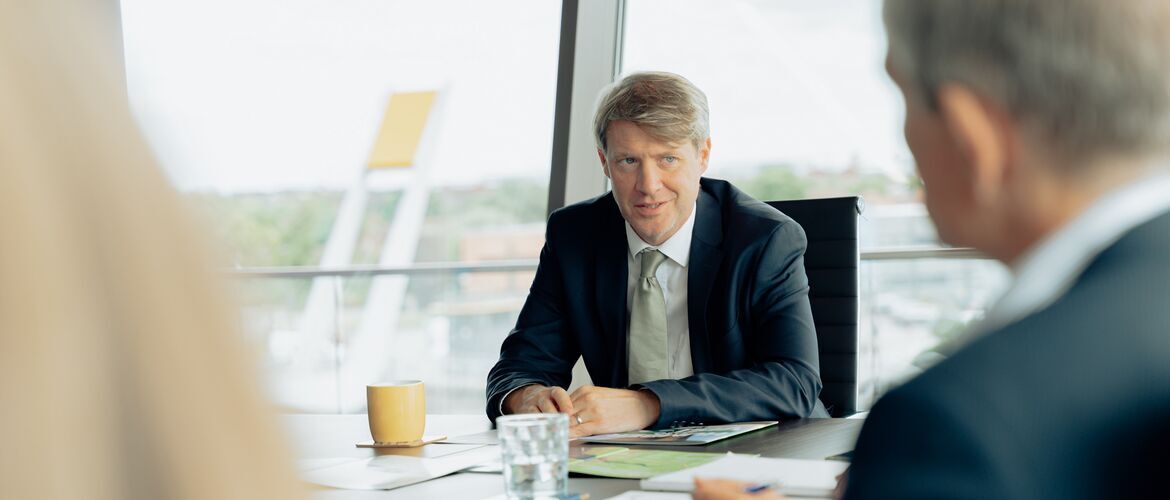 The opportunity for the Humber to become a blueprint for whole-region decarbonisation has been discussed at a roundtable featuring UK net zero champion Chris Skidmore MP.
The former Energy Minister, responsible for signing the UK's net zero commitment into law, visited the region to hear about the progress that has been made to decarbonise industry and transition to a low carbon economy.
The discussion, which took place at Hull's C4DI, focused on the opportunities and challenges facing the Humber region, its businesses and its people.
It highlighted the importance of focusing on whole-region decarbonisation, supporting small and medium-sized businesses on their net zero journey and ensuring the Humber has the skilled workforce and talent to achieve ambitious targets set by government.
Engaging the public and driving behavioural change was also at the heart of the conversation, as it was acknowledged many people remain unsure on the action they can take to play their part.
The session was chaired by Dr Diana Taylor, managing director of place promotion organisation Future Humber, and featured senior figures from leading companies and organisations including Siemens Gamesa, Humber Freeport, Reckitt, Smith+Nephew, Hull City Council and Sewell Group.
Dr Taylor said: "It's vitally important that, when we talk about net zero, we focus on the region as a whole. We often focus the conversation on big industry, knowing the scale of opportunity that arises for the Humber through industrial decarbonisation, however the net zero transition is something which every business, organisation and person must embark on.
"We have a unique opportunity in the Humber to create a roadmap for whole-place decarbonisation, which can act as a blueprint for both the UK and Europe.
"It was a pleasure to welcome Chris Skidmore back to the region for a discussion around the immense progress made by businesses and organisations across the Humber, and also the challenges facing many on their decarbonisation journey."
Central to the roundtable discussion was the Humber's unique position – both geographically and economically – as a global trade gateway, a world-leading centre for renewable energy and a hub for digital innovation.
The strength of collaboration between the public and private sectors was highlighted, as well as a shared commitment from business and industry to reduce their carbon footprint.
With the region clustered around the UK's busiest port complex, the Humber handles around 17 per cent of the nation's trade.
The Humber Freeport, which recently formed its board, strengthens that offering and can act as a major catalyst for future investment around net zero.
Simon Green, Humber Freeport Interim CEO, joined the roundtable event at C4DI.
He said: "Within Humber Freeport we've got three clear workstreams – decarbonisation, skills and innovation.
"When it comes to net zero and reducing carbon emissions, clearly all three of those streams overlap and interlink. It is when you combine all of those areas that the really exciting developments and opportunities start to happen.
"My message to Government is this … let's work more closely together to enhance our relationship and unlock all of the benefits this region offers.
"We produce 15 million tonnes of carbon every year in the Humber – it is the second-largest emitter of carbon in Europe. Put simply, if the Humber region does not achieve net zero, then the UK will not either."
The roundtable discussion featured:
Chris Skidmore MP, Chair of the Net Zero Review
Dr Diana Taylor, Managing Director, Future Humber
Simon Green, CEO, Humber Freeport
Cllr Mike Ross, Leader, Hull City Council
Martin Budd, Climate Change Manager, Hull City Council
Paul Andrews, Director of Global Energy, Smith+Nephew
Andy Sykes, Plant Director, Siemens Gamesa
Jo Barnes, Managing Director, Sewell Estates
David Lewy, Director of Government Relations (UK), Reckitt
Sewell Estates is part of Hull-based multi-disciplinary company Sewell Group, an investor in the £200m Yorkshire Energy Park, and Jo Barnes highlighted the challenges facing the development due to National Grid connections.
She said: "Once operational, Yorkshire Energy Park will generate far more power than it will consume. That is energy which could go directly into other local industry and help to feed the grid, as well as creating many quality, highly-skilled new jobs on site.
"We have got significant interest in Yorkshire Energy Park, but we have had to work hard to remove barriers to development over the last seven years, including securing our grid connection and dealing with off-site infrastructure.
"These issues are common to many development sites in our area and I do worry that the timelines involved in resolving these issues could stymie the wider potential of our region.
"UK Plc cannot afford to turn down global investment."
Chris Skidmore MP was commissioned in autumn 2022 to Chair an independent review into the Government's approach to achieving net zero status by 2050.
The report was published in March, and set out the progress which has already been made in the UK and plans for further policy to support business and industry in achieving net zero.
Speaking at the roundtable event in Hull, Mr Skidmore MP said: "Having been responsible for the UK's net zero commitment signed into law four years ago this week, I am constantly struck by how businesses and industry recognise that this is a unique economic opportunity to deliver regeneration, new jobs and growth in their region.
"This is especially the case for the Humber region, which has long been the shining example of how renewable industries can transform local economies. Hull has a fantastic vision for a net zero future, that demonstrates how if we can empower regions to get on with the job, they will deliver.
"I was incredibly impressed both by the commitment of the businesses I met, but also the detail of the plans that the Humber region has.
"I am grateful to Future Humber and Reckitt for giving me the opportunity to visit on my Net Zero Tour I'm continuing as part of my Mission Zero report engagement across the country."
The session was facilitated by Future Humber, whose powerful Bondholder network spans both public and private sectors.