BY Lucy Bannister | Thursday 17 November 2022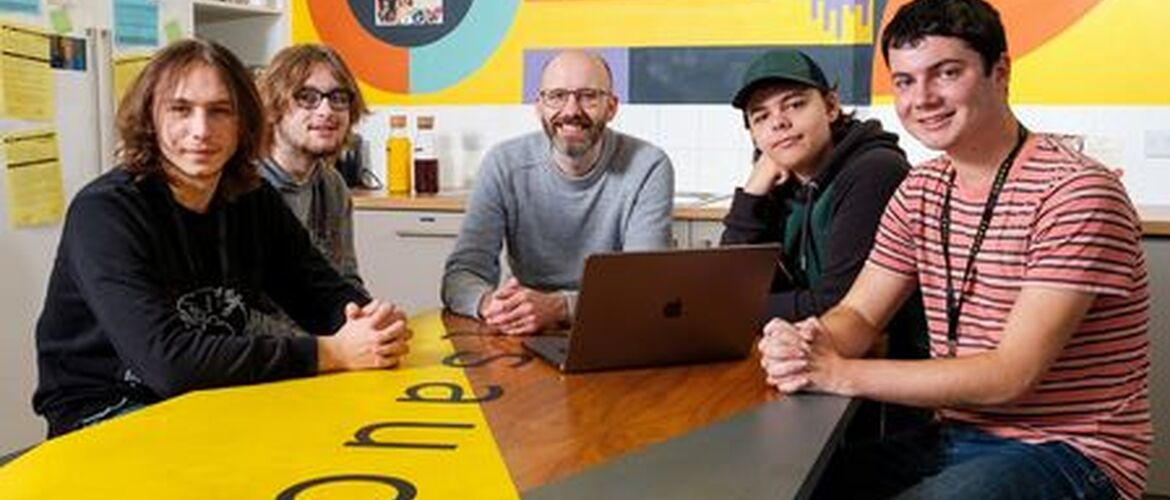 Former students of Ron Dearing UTC have gone on to find exciting new opportunities
Dozens of former Ron Dearing UTC students have embarked on exciting career paths for the fourth consecutive year, securing apprenticeships and employment with leading businesses.
Sixty-five of the employer-led school's 127 Year 13 sixth form students secured apprenticeships and 41 went to university, including 14 at one of the prestigious Russell Group universities.
Five students from the Hull school moved on to further education colleges, 16 secured employment and one joined the Armed Forces.
The apprenticeships cover a wide range of roles and skills, from Engineering and Digital to Quality Assurance (QA) and Information Technology (IT), while several students have secured traineeship opportunities in software development positions.
CO2 laser manufacturer Luxinar, a Major Partner of Ron Dearing UTC, has taken on 10 apprentices this year after employing four in 2021. The company, based at Bridgehead Business Park in Hessle, has installed thousands of lasers worldwide for use in a vast range of industries and applications.
Chris Newman, Luxinar's Learning and Development Lead, said: "We're delighted to take on a further 10 apprentices from the UTC and they've settled in really well.
"They've arrived with a professional attitude, they're very friendly and they all have a willingness to learn and ask questions, which is down to the grounding they've had at Ron Dearing UTC.
"The feedback from their managers has been excellent. We couldn't have asked for more and they're exceeding our expectations, building on their skills and growing in confidence."
Smart tech company Sauce, a Major Partner of the UTC, has employed four former Ron Dearing students as trainee developers as part of a 12-month programme following an initial three-month internship this year.
If successful, all four will progress to junior software developer roles and continue their careers at the company, based in Hull's Centre for Digital Innovation (C4DI) tech hub in the city's Fruit Market.
The award-winning Sauce team specialises in working with large, traditional companies as their digital partners, creating innovative solutions to key business challenges across multiple sectors to keep them ahead of the technology curve.
John Polling, Chief Technology Officer at Sauce, said: "The trainees have done so well so quickly and they're already contributing to coding on real life projects for clients, which is really impressive and promising.
"They're all really keen and the fact they've all progressed so well gives us even more confidence for employing more students from Ron Dearing UTC in the future."
Global wind power leader Siemens Gamesa, a Founding Partner of Ron Dearing UTC, has employed five apprentices from the school this year, taking the total number of former UTC students employed since 2019 to seven.
Of those employed this year, four production apprentices are based at the company's world-class wind turbine manufacturing, assembly and logistics operations at Alexandra Dock in Hull. One construction apprentice is undergoing her training at Airco in Goulton Street, west Hull, before working on offshore wind turbine sites.
Andy Sykes, Plant Director at Siemens Gamesa, said: "It's vitally important we engage and inspire the next generation. I was incredibly impressed by the apprentices' approach and interview skills and it gives me a great deal of confidence that they understand what it takes to be successful.
"The feedback from their managers has been very positive and I'm looking forward to them being able to apply their learning."
Leading engineering business Spencer Group, also one of Ron Dearing UTC's Founding Partners, has taken on 14 apprentices from the school this year. The company has employed 42 apprentices from the UTC in just three years, including 14 in 2019, five in 2020 and nine in 2021.
Former Ron Dearing students now make up a significant proportion of the company's workforce of more than 300 directly-employed staff.
Charlie Spencer OBE, Executive Chairman and founder of Spencer Group, said: "As a growing business, it's essential we bring in and develop young talent and that's exactly what we're doing with these exceptional young apprentices."
Opened in 2017, Ron Dearing UTC caters for students aged between 14 and 19, offering a unique model of employer-led education with a specialist focus on digital technology, creative digital and digital engineering.
It is currently increasing student places from 600 to 800 to meet growing demand, redeveloping space in the existing school building and renovating and repurposing the former Central Fire Station next door to the school into a satellite site.
Ron Dearing UTC Principal Sarah Pashley said: "We're incredibly proud of our track record of supporting students to secure positive destinations when they leave our sixth form.
"This year is no exception and it's fantastic to see them settling in so well in a range of roles across a variety of sectors.
"Thank you to our staff and employer partners for their continued support and opening up so many wonderful opportunities for our students. They have very bright futures ahead of them."